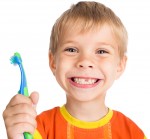 Our caring dentist and dental team at Brownsburg Family Dental Care work hard to help you improve your oral health. It is important, however, that you maintain the health of your smile when you're away from our office. We recommend that you maintain good daily oral hygiene habits to keep your smile in the best of health. Good oral hygiene should include the following steps:
Brush your teeth at least twice every day (or after each meal). Use a soft-bristled toothbrush and toothpaste that contains fluoride.
Floss your teeth at least once every day. The most important time to floss is before going to bed.
Eat a nutritious, balanced diet. Avoid eating excessive amounts of foods that are very sugary or acidic.
Visit our dental office at least once every six months for a routine dental cleaning and exam. If you experience any type of dental pain between visits, we encourage you to contact our office.
Following these simple guidelines can help you prevent tooth decay, periodontal disease, and other harmful dental diseases. If you have any questions about oral hygiene in Brownsburg, Indiana and how to care for your smile, we welcome you to ask Dr. Todd Eder and his dental team. We are dedicated to helping you care for your smile!